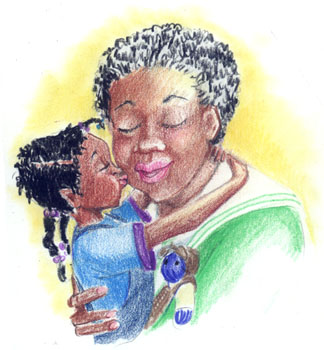 I'd apologize for my absence, but I know ya'll are about as tired of hearing my excuses as I am about writing them. The truth is, I couldn't get inspired to write about anything lately. I was going to write about the nuptials of
The Extremes
, which I attended a week ago, but then I had a death in the family. Plus, the drama at Virginia Tech also saddened me. But I've dusted myself off and I'm back at the blog.
It occurred to me the other day that since November, I've been to three funerals and one wedding. It sounds like an awful twist on a Hugh Grant movie, but it's true. Most recently, my grandmother -- my stepfather's mother -- passed away. The doctors told us to prepare ourselves for her death months ago, but we were all hoping for the best. And even though we talked to her about death and dying several times, all of us were shocked when we learned about her passing.
I don't want to get too emotional here -- cuz Lord knows I've cried too much in the last couple of weeks -- but Mrs C was the last grandmother I'll ever have. When my Mom first met her son 14 years ago, she welcomed us both into the family with open arms. Being the stubborn teenager that I was, I tried my best to keep her, my stepdad, and the rest of his family at arm's length. But she wouldn't give up on me and always called just to see how I was doing, sending me money whether I needed it or not and feeding me until I was ready to explode.
In my top drawer, I still have a letter that she sent me in 2000 when I moved away from home and started my first job. "I have so much love in my heart for you. I feel you are also a part of me," she wrote. "... As you start out (in life) be careful whom you choose and trust no one." And as usual, there was a check inside.

Anyway, she's gone now and we traveled down south for the funeral, which was over the weekend. Because I am who I am, I needed to find something to laugh about to get me through this marathon of funerals that I've experienced in the last few months. In two of them -- Mrs. C's included -- they had choirs where all the singers were 80 or older. Not that there's anything wrong with having an elderly choir -- if they can sing. On both occasions, the choirs sounded eerily similar to the way I do when I'm singing "The Sound of Music" in the shower. Note: It ain't pretty. Mom agreed with me and together we devised a list of people who would be banned from singing at our own funerals. It was a bit of a morbid conversation, but it got us through.